Media Releases
2019 Service Recognition
Details

Published: Thursday, 19 December 2019 10:17
The Municipality of Colchester's 2019 Service Recognition recipients were thanked and acknowledged recently at a reception and Council Committee meeting held on December 12th.
We would like to take this opportunity to congratulate and thank all recipients for their many years of dedicated service to our County!
5 Years
Gladys Anderson, Recyclable Sorter/Labourer; Scott Fraser, Director of Corporate Services; Suzanne Graham, Administrative Support Clerk; Todd Jones, Recyclable Sorter/Labourer; Gerald LaPatha, Recyclable Sorter/Labourer; Heather Maddigan, Finance Manager; Doris Wile, Recyclable Sorter/Labourer;
10 Years
Douglas Carter, Recyclable Sorter/Labourer; James Cook, Utility Worker/Traffic Controller; Ashley Crowe, Scale house Operator; Kelly Gratto-McCarthy, Human Resource Specialist; Richard Haight, Wastewater Collection Worker; Mike MacKinnon, Building/Fire Inspector; Meaghan MacLean, Recyclable Sorter/Labourer; Tamara Marchbank, Planning Technician;
15 Years
Clay Drummond, Baler Operator; Mark MacCallum, Janitor; Hilary Paquet, Parks and Trails Coordinator; Corey Reid, Heavy Equipment Mechanic; Terri Robblee, Active Communities Coordinator;
20 Years
Pam Macintosh, Planner; Darlyne Proctor, Waste Reduction Manager; 25 YearsMannie Withrow, Manager of Inspection Services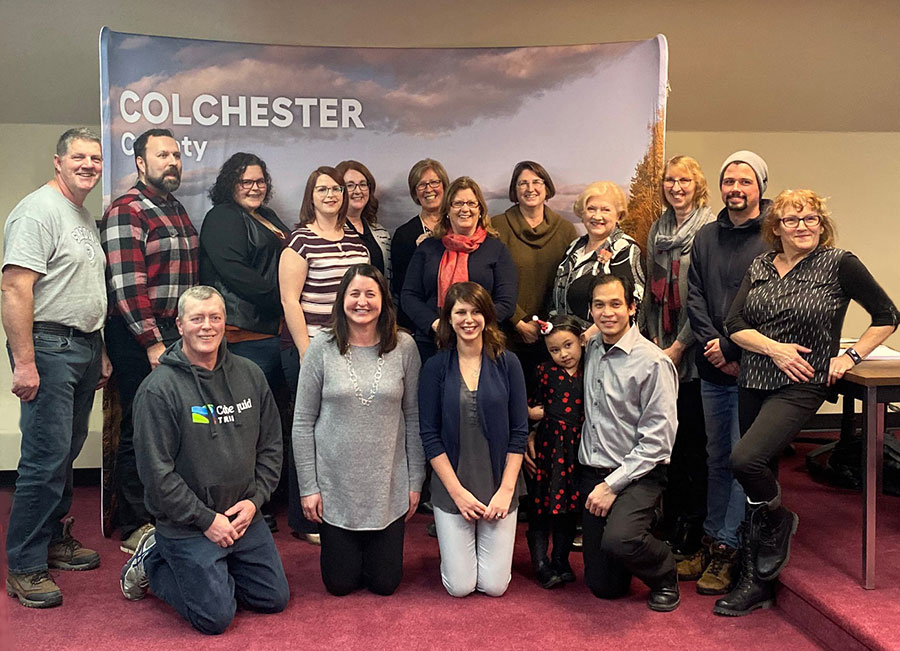 From left to right, back row: Cory Reid, Scott Fraser, Meaghan MacLean, Heather Maddigan, Suzanne Graham, Kelly Gratto-McCarthy, Darlyne Proctor, Pam Macintosh, Christine Blair, Doris Wile, Todd Jones, Gladys Anderson, front row: James Cook, Hilary Paquet, Tamara Marchbank, Gerald Lapatha.
Air Show Atlantic announces show in Debert, Nova Scotia for first time
Details

Published: Wednesday, 11 December 2019 10:12
Warbirds over Debert...
Air Show Atlantic will be held in Debert, Nova Scotia at the Debert Flight Centre, August 29 and 30, 2020. This marks the first time the air show has produced "Air Show Atlantic" in Debert. In June of 2019 producers welcomed the Canadian Forces Snowbirds for a Wednesday afternoon display which proved the site viable for its major air show production.
"With over 4000 fans attending a mid week show in the afternoon it was clear that Debert, Truro and the communities of Colchester County were ideal for hosting Air Show Atlantic", says Colin Stephenson, Executive Director of Air Show Atlantic.
"We're proud of our Debert Airport and are thrilled to welcome back the Snowbirds, this time along with the full Atlantic Canada International Air Show. It's very exciting!", said Mayor Christine Blair of Nova Scotia's Colchester County.
"The Town of Truro is happy to support the Atlantic International Air Show in August 2020 and the great work of Events Truro Colchester, who will be hosting the event locally," said Truro's Mayor Bill Mills.
Colchester Recognized for Contribution to New CMHA Building
Details

Published: Friday, 29 November 2019 11:09
The Municipality of Colchester was recently recognized for its $100,000 contribution to the Colchester - East Hants Branch of the Canadian Mental Health Association's new building.
On behalf of Council, Colchester Mayor Christine Blair and Deputy Mayor Geoff Stewart attended a reception held Thursday, November 28, that involved the unveiling of an art-piece identifying the many supporters of the project.
Read more: Colchester Recognized for Contribution to New CMHA Building
New Brand for Municipality of Colchester
Details

Published: Monday, 30 September 2019 11:20
Colchester County Council approved a pdf new brand for the Municipality (2.67 MB) at their Council meeting held on September 26, 2019. The new logo and tagline "be centred here" are part of an effort to improve public engagement, build a strong sense of pride in the community, and promote the County as a desirable place to live, work, and visit.

"The Municipality had been using its coat-of-arms as a logo for quite some time. Our Council felt that it was time for something new that better represented the vibrancy and diversity of our community," said Christine Blair, Mayor. "We'll continue to use the coat-of-arms for formal purposes, though you will soon begin seeing our new look more prominently throughout our communications."
Fundy Discovery Site to Celebrate with Open House
Details

Published: Thursday, 12 September 2019 11:45
The Council of the Municipality of Colchester will be hosting a public open house and ribbon cutting event at the Fundy Discovery Site (103 Tidal Bore Road, Lower Truro) on Saturday, September 21 from 3:30-6:00pm.
The event will involve live music by local bands at the new outdoor amphitheatre, opening of the natural playground, official ribbon-cutting ceremony at 4:15pm, and free barbecue, cake and refreshments. The tidal bore is predicted to arrive at 5:55pm to close out the event.
The open house celebrates the completion of Phase 1 of development at the site. In addition to the Municipality's investment to date, the event will recognize the support of the project's various partners including the Province of Nova Scotia, Trans Canada Trail, Town of Truro and several local businesses.
Read more: Fundy Discovery Site to Celebrate with Open House
Snowbirds Over Debert
Details

Published: Monday, 09 September 2019 11:57
The evening of Wednesday, June 19th will be one to remember as the Canadian Forces Snowbirds fly over Colchester County!
Tickets are on sale and are very affordable as children under 12 are welcomed in for FREE with adults who will pay just $12 for an advance ticket. The Show site will open in the afternoon and flying will be after the supper hour.
The air show organizing team is very excited to provide a Snowbirds performance in Atlantic Canada this year. This will be the ONLY Snowbirds performance east of Quebec in 2019. We make history this year as the Snowbirds fly their very first performance at this location and will welcome other displays as additional participants are confirmed.
For more information visit Air Show Atlantic.