Media Releases
Municipalities of Cumberland and Colchester Getting Major Rural Broadband Network
Details

Published: Friday, 07 February 2020 08:50

FOR IMMEDIATE RELEASE – 7 February 2020
The Municipalities of Cumberland and Colchester have taken a huge step toward their goal of being one of Canada's most digitally connected rural places. They are teaming up with Xplornet Communications and Develop Nova Scotia on a high-speed internet project that will see $60 million invested in the region.
Xplornet will deploy nearly 700 kilometres of optic fibre to offer up to 100 Mbps fibre-to-home and fixed wireless services on their network, which will reach more than 21 700 currently underserved households and businesses. A further 2300 addresses will have access to improved satellite service that will reach up to 50 Mbps by the completion of the full network. The three-year project is aiming for 100% high-speed availability in Cumberland and Colchester.
Read more: Municipalities of Cumberland and Colchester Getting Major Rural Broadband Network
Province Funds Colchester Projects to Reduce Emissions
Details

Published: Wednesday, 05 February 2020 08:50
The Province is helping to reduce emissions in Colchester County by investing in two new clean energy and transportation projects.
Finance and Treasury Board Minister Karen Casey, on behalf of Energy and Mines Minister Derek Mombourquette, recently announced a total of $170,000 for two projects under the Low Carbon Communities Program.
"Nova Scotia continues to be a national leader in reducing emissions to fight climate change," said Ms. Casey. "Communities across the province understand the urgency and importance of reducing emissions, and they want to do their part to benefit from Nova Scotia's cleaner energy future. These investments support innovative local ideas that will help grow the green economy and create jobs in every part of our province."
The Municipality of Colchester will receive $100,000 to design a pedestrian and active transportation bridge at the Fundy Discovery Site in Lower Truro to link a network of trails north and south of the Salmon River.
The Municipality will also receive $70,000 to develop a community energy emissions plan to help guide Colchester to a low-carbon future.
"These projects are wonderful examples of Colchester County's commitment to active transportation, sustainability, and carbon reduction. We're happy to be doing our part to address climate change while promoting healthy living and an enhanced visitor experience at the Fundy Discovery Site," said Christine Blair, Mayor of the Municipality of Colchester.
For more information contact Devin Trefry at This email address is being protected from spambots. You need JavaScript enabled to view it. or call 902-897-3182.
Council's Ruling Regarding Personnel Matter
Details

Published: Friday, 31 January 2020 09:54
At its meeting on January 30, 2020, Council for the Municipality of the County of Colchester received the findings of an investigation carried out by Rebekah Powell, an independent investigator, into a complaint by an employee of the Municipality of the County of Colchester as a result of a comment made by Councillor Robert "Bob" Pash, District 9.
The Municipality took the complaint seriously, moving immediately to retain the investigator and ensuring the matter was addressed in a timely way. In the course of the investigation, and in the absence of a Code of Conduct, reference was made to the Municipality's Respectful Workplace Policy, the law on harassment and sexual harassment as well as provisions of the Human Rights Act.
Colchester Leads Waste Management Change Abroad
Details

Published: Wednesday, 29 January 2020 10:01
Darlyne Proctor, Waste Reduction Manager with the Municipality of Colchester is one of two Canadian solid waste management technical advisors assisting a foreign-aid initiative in the Middle East called the Jordan Municipal Support Project. She recently returned from her third visit to Jordan since 2018 as one of several Colchester County representatives that have provided peer support to rural municipalities facing capacity challenges from the influx of refugees welcomed into the country. Proctor reflects on her experiences and how the project has assisted Jordan's waste management practices in an article released by the Federation of Canadian Municipalities (FCM): No Time to Waste.
The Municipality of Colchester is one of three municipalities representing Canada in this multi-year project and was selected for its achievement in solid waste management, including diversion, recycling, and public education initiatives.
Other delegation members who have travelled to Jordan since the project's inception include Colchester County Mayor Christine Blair, Councillor Tom Taggart, Councillor Eric Boutilier, Economic Development Officer, Mark Austin, and Chief Administrative Officer, Rob Simonds. The Jordan Municipal Support Project is implemented by the Federation of Canadian Municipalities and funded by Global Affairs Canada.
For more information see Federation of Canadian Municipalities Article: No Time to Waste Or contact Devin Trefry at This email address is being protected from spambots. You need JavaScript enabled to view it. or call 902-897-3182
2019 Service Recognition
Details

Published: Thursday, 19 December 2019 10:17
The Municipality of Colchester's 2019 Service Recognition recipients were thanked and acknowledged recently at a reception and Council Committee meeting held on December 12th.
We would like to take this opportunity to congratulate and thank all recipients for their many years of dedicated service to our County!
5 Years
Gladys Anderson, Recyclable Sorter/Labourer; Scott Fraser, Director of Corporate Services; Suzanne Graham, Administrative Support Clerk; Todd Jones, Recyclable Sorter/Labourer; Gerald LaPatha, Recyclable Sorter/Labourer; Heather Maddigan, Finance Manager; Doris Wile, Recyclable Sorter/Labourer;
10 Years
Douglas Carter, Recyclable Sorter/Labourer; James Cook, Utility Worker/Traffic Controller; Ashley Crowe, Scale house Operator; Kelly Gratto-McCarthy, Human Resource Specialist; Richard Haight, Wastewater Collection Worker; Mike MacKinnon, Building/Fire Inspector; Meaghan MacLean, Recyclable Sorter/Labourer; Tamara Marchbank, Planning Technician;
15 Years
Clay Drummond, Baler Operator; Mark MacCallum, Janitor; Hilary Paquet, Parks and Trails Coordinator; Corey Reid, Heavy Equipment Mechanic; Terri Robblee, Active Communities Coordinator;
20 Years
Pam Macintosh, Planner; Darlyne Proctor, Waste Reduction Manager; 25 YearsMannie Withrow, Manager of Inspection Services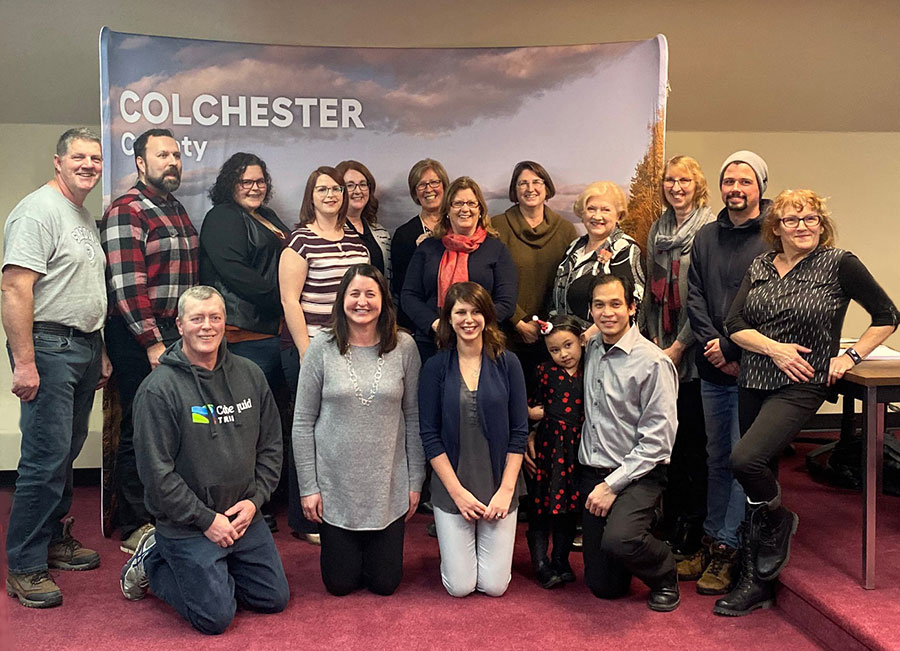 From left to right, back row: Cory Reid, Scott Fraser, Meaghan MacLean, Heather Maddigan, Suzanne Graham, Kelly Gratto-McCarthy, Darlyne Proctor, Pam Macintosh, Christine Blair, Doris Wile, Todd Jones, Gladys Anderson, front row: James Cook, Hilary Paquet, Tamara Marchbank, Gerald Lapatha.
Air Show Atlantic announces show in Debert, Nova Scotia for first time
Details

Published: Wednesday, 11 December 2019 10:12
Warbirds over Debert...
Air Show Atlantic will be held in Debert, Nova Scotia at the Debert Flight Centre, August 29 and 30, 2020. This marks the first time the air show has produced "Air Show Atlantic" in Debert. In June of 2019 producers welcomed the Canadian Forces Snowbirds for a Wednesday afternoon display which proved the site viable for its major air show production.
"With over 4000 fans attending a mid week show in the afternoon it was clear that Debert, Truro and the communities of Colchester County were ideal for hosting Air Show Atlantic", says Colin Stephenson, Executive Director of Air Show Atlantic.
"We're proud of our Debert Airport and are thrilled to welcome back the Snowbirds, this time along with the full Atlantic Canada International Air Show. It's very exciting!", said Mayor Christine Blair of Nova Scotia's Colchester County.
"The Town of Truro is happy to support the Atlantic International Air Show in August 2020 and the great work of Events Truro Colchester, who will be hosting the event locally," said Truro's Mayor Bill Mills.